1)10 mm Silicone ignition wire set/spark plug cable set.
2)All kinds of colours.
3)Delivery time: 21 days.
4)Guarantee: 2 years.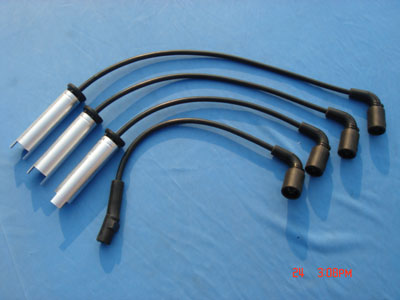 Our company are leading manufacturer of ignition cable set and specialize in making ignition cable, ignition cable set, spark plug wire, spark plug wire set, such as, GM, Ford, Peugeot, Citroen, Renault, Land Rover, Jaguar, Lada, Volga, FIAT, Daewoo, KIA, Hyundai, Mazda, Honda, Nissan, Toyota, Mitsubishi, Suzuki, Paykan, Opel, V W, Benz, BMW, Skoda, Volvo, etc.


Rubber boots&caps used on spark plug and Distributor
Material
Silicone
Shore-Hardness
60°+ 5°
Elogation
≥280ºC
Age resisance
Hardness range is 0-7(Shore-hardness) after 200+2.5ºC.168H
Temperature range
-40ºC~+200ºC
Tensile set
≤20%
Tear strength
≥15KN/M
Breakdown voltage
≥30KV
Ozone resistance
(50pphm 40ºCX72H) No dehiscence
Ignition Cable
Test item\Specification
Ø5mm
Ø 7mm
Ø 8mm
≥Ø 9mm
Implemented standard
GB/T14820.3-93, ISO3808/2-1980
Shore-Hardness
75°+ 3°
Breakdown voltage(Industrial frequenly AC)
Type A(Resistance)
≥25KV

≥35KV

≥35KV

≥40KV
Type B(Resistance)


Type C(Resistance)



Resistance
Type A ,B
16KΩ+30%
Type C


Wirewound 0.5 KΩ~16 KΩ(discrentionary)
Diameter of cable
Ø5+0.3mm
Ø 7+0.3mm
Ø 8+0.3mm
Ø 9+0.3mm
Working temperature range
-40ºC~+200ºC
Tensile strength
≥23KN
Ignition Cable Set
Appearance
Colour and lustre is symmetry, character is clear and smooth, flat, no bug on the surface
Engage and disengage force
Distributor: 30N~50N, Spark plug:50N~70N
Daming cable's resistance
Suppression 16 KΩ/M+30%; Wirewound0.5 KΩ~16 KΩ(discrentionary)
Insulation
No creepager under:30KV, 1H
Simulant ignition
No creepager and no crack under: 50Hz 29KV 30s
Terminal pull-off
≥100N
Temperature range
-40ºC~+200ºC

We are OE manufacturer and reliable aftermarket supplier for spark plug cable, spark plug wire set, ignition wire set, spark plug cables, our high performance ignition cables and ignition wire sets are made strictly according to ISO3808 standard, our company have passed through ISO9001: 2000.